Features at a Glance: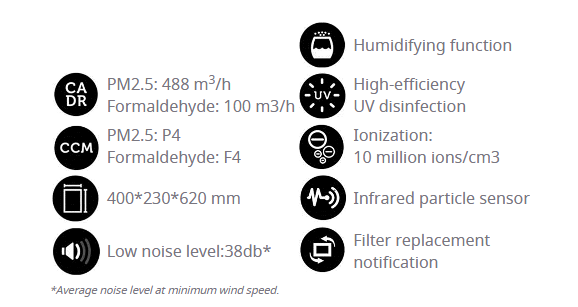 Novas's 7 Stage Powerful Purification Process
1. Pre-filter: Can filter dust, dander, pollen, floating debris and other particles larger than 5 microns.
2. Cold catalyst filter: Can remove formaldehyde, benzene, xylene, TVOC and other harmful gases through catalytic reaction but does not produce secondary pollution.
3. Activated carbon filter: Can absorb all kinds of harmful gases such as formaldehyde, toluene, xylene and ammonia with a removal rate of 99%.
4. Antibacterial cotton filter: Can destroy cell wall of bacteria, rupture the cell membrane without leakage, terminate the process of microbial metabolism and growth.
5. True HEPA filter: Can filter dust, pollens, virus, molds, germs, pet dander and particles larger than 0.3 microns with a high efficiency of 99.97%.
6. UV light sterilization: Can break down the DNA strands of bacteria, causing the crosslinking of nucleic acid and protein to break up, killing off nucleic acid's biological activity and causing bacterial death.
7. Anion generator: Can make indoor dust, smoke and bacteria, which usually have positive charges, gather together and lose the ability to float freely in the air, hence, purifying the air.
Smart Mobile App
SMART LIFE mobile APP:
Easy installation and setting up (via Wi-Fi connection) of new device into your phone.
Multiple machines can be added into one account.
Functions
Real-time display of PM2.5: green for excellent air quality, blue for good air quality, yellow for moderate pollution and red for heavy pollution.
Remote controlling of the machine: turning it on/off, switching the anion generator on/off, adjusting the wind speed and setting up the timer mode, etc.
Filter replacement notification: indicates the remaining life span of the filter and reminds you when it is time to replace them.
Commonly Asked Questions
Your relevent FAQ answer.
Our reviews from Google:
Our reviews from Facebook: